November's Football Frenzy
We've had a very busy month of sport so far with most of our teams beginning their campaigns. Our u15 Boys played brilliantly against a very strong Tyrrellstown team, losing 3-1 but in no way were they outplayed according to Nathan Blake, one of the stand-out performers on the day: "We played very well and were unlucky to not score more goals. Our creativity was excellent." Dean 'The Goal Machine' Morley was on-target yet again for New Cross. Shane Farrell, who recently represented Leinster in an Interprovincial tournament, scored a brace while helping the u19 Boys to a very dominant win over Pobalscoil Neasáin. Other notable displays came from Jamie Dunleavy making his debut as a goalkeeper, and Seán Murray showed great pace and determination on the right wing. Our u17 Girls lost against local rivals St. Michael's in the Leinster League, but the girls will be hoping to get some points on the board when they play Trinity of Ballymun in a few weeks. In the u19 Leinster Cup, New Cross had a tough quarter-final task against the reigning Leinster Champions Ballinteer. The girls showed great character to hold the champions to a scoreless draw until the final ten minutes of the game, eventually losing 2-0. It could have easily been the other way around, with Abby Meade and captain Tiffany Roberts coming agonisingly close on a few occasions. Player of the match Shannon Barnewell feels that her team should have come away with a better result: "We were the better team." With this loss we say goodbye to four fantastic athletes who contributed greatly to sport in both New
Cross and Mater Christi. A huge thank you and well done to Rebecca O' Grady, Niamh Kavanagh, Tiffany Roberts and Shannon Barnewell for their contribution to school sport over the last six years. The very best of luck in the future to all four students, no doubt they will go on to achieve great things. We now turn our attention to Mr. Greene and his u17 Boys who begin their campaign next week. Good luck lads…!
NEW CROSS ABÚ…!!!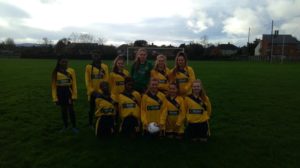 Super Stopper Solomon Serves New Cross First Year Futsal Squad Well
The New Cross College First Year Futsal Squad played in the All-Dublin Finals at the National Sports Campus last week. The lads were drawn in a very competitive group, but all players rose to the occasion and represented themselves and the school brilliantly. Unfortunately the team didn't go any further than the group stage, but they played with great passion and showed fantastic work ethic. New Cross 'super striker' Dean Morley was on-form again, scoring two great goals after some fantastic build-up play from New Cross's player of the tournament, David Roche. Aaron Graham was solid and reliable as always in defense, with the trickery and pace of Sheriff Kuti kept all opposing defenders busy. The last line of defence, Solomon Olagoke, was commanding in goal and was instrumental in starting many threatening attacks. Olagoke, Graham, Roche, Kuti and Morley were subsequently called up to the u15 squad, and deservedly so. Well done to the whole squad, no doubt there will be many more successful days out to come…!